We offer Open Enrollment for our Summer Program for
children currently in
kindergarten through 6th
grade.
The summer program is not limited to Tallmadge students only!
Flexible scheduling is offered to better suit your needs.
King's Kids offers the following services:
A cold breakfast at Before Care and a snack at After Care (Each student is required to pack a lunch every day.)

Outdoor exercise during morning and afternoon recess

A large gym for indoor activities when weather does not permit going outside

A variety of staff-lead, themed activities and field trips. (Due to the nature of some of these themes, we advise kids to wear clothes that can get messy!)

Field Trip T-shirts for all students that are worn on EVERY field trip. (Our bright colored shirts make it easy to see our group members and stay together.)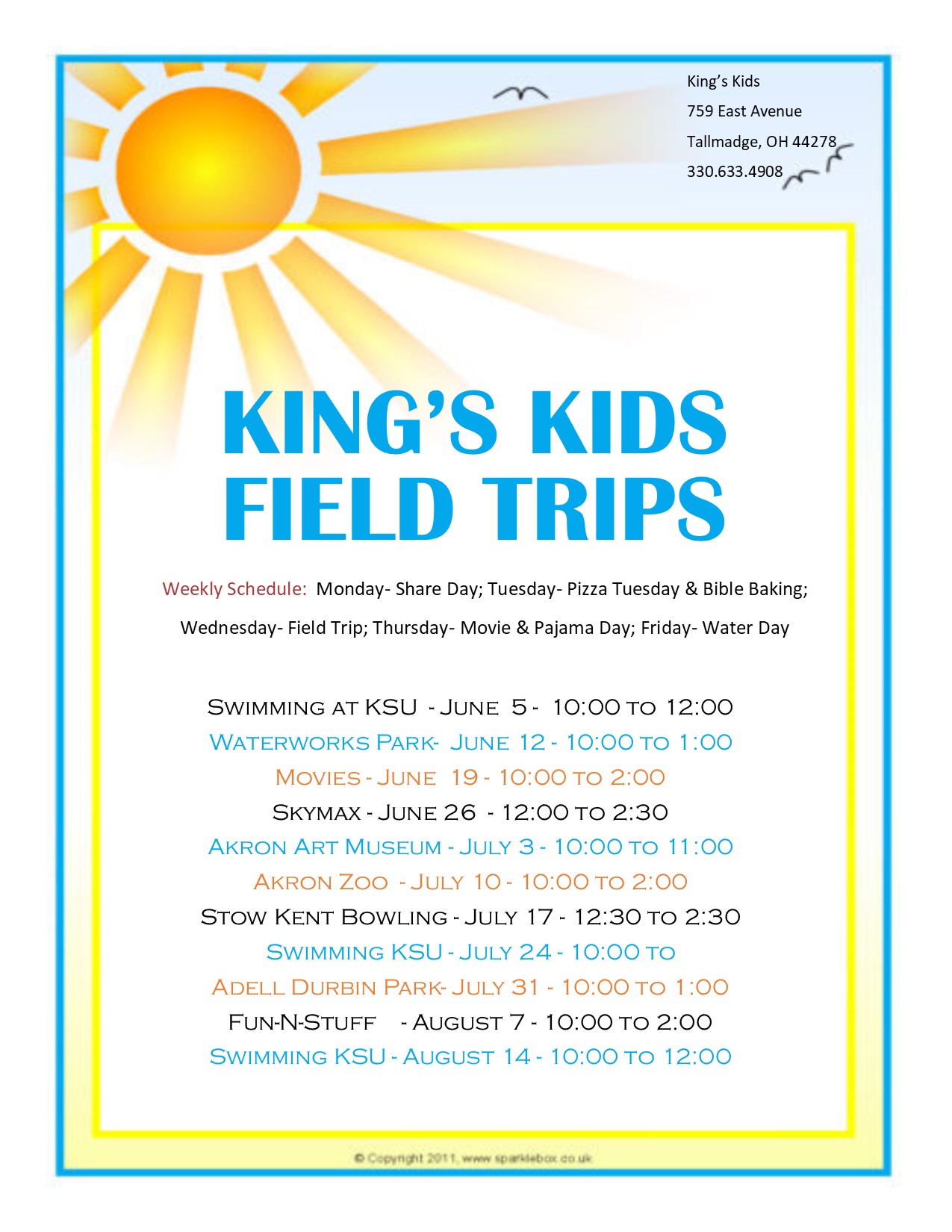 King's Kids Daily Schedule
6:30-9:00 Extended Before Care (Free Choice)
9:00- Camp Time Begins
9:45-10:00 Morning Prayer
10:00-11:30 Morning Activity
11:30-12:00 Lunch
12:00-1:00 Out Door Time
1:00-1:30 Down Time
1:30-3:00 Afternoon Activity
3:00 pm Camp Time Ends
Extended After Care Begins.
3:00-6:30 Pick Up (Free Choice)
3:15 Snack Time
Weekly Schedule
Monday is Share Day
(one toy from home)
Tuesday is Pizza Lunch ($3) & Bible Baking
Wednesday is Field Trip Day!
Thursday is Movie Day
Friday is Water Day
Weekly Tuition Per Child
Day Camp Only 9:00 am- 3:00pm
3 Days- $65.00 4 Days- $70.00 5 Days- $75.00
Before (6:30-9:00 AM) OR After (3:00-6:30 PM)
Both Before AND After Care
What Makes Our Scheduling Special?
Although we have set schedules, parents are able to choose which days and weeks their child will attend.

* A $2.00 weekly tuition discount is offered to students who are registered 5 days a week including BEFORE AND AFTER Extended Care for 3 weeks or more!*
Contact Director, Katie Bungard for further information on registration or to set up a tour.
Telephone: 330-633-4908
Email: kbungard@tlcoh.org